After a long and instructive week of RST, I picked up Michael at his hotel on Friday evening and we drove to Driebergen for the first DEWT peer conference (#DEWT1). We checked in and went to our rooms for a small powernap waiting for the others to arrive. Since the conference would only start the next day, we had the inevidiable drinks and fun. You can imagine that putting 7 testgeeks in the same room will end up in enjoyable stories about our craft. The bar closed at 23:00, but we found the night porter happy to bring us more drinks. Somewhere around 2 a.m. we went to bed after a very entertaining evening/night.
On Saturday Michel and Jeanne joined us after breakfast and our DEWT conference could finally start. Ruud being the chairman in the morning kicked off thanking everybody for being there.
Artful Testing
Zeger did his "Artful Testing" talk. A very well done talk using a amazingly beautiful prezi. Although he had 15 minutes according to the program he managed to keep us facinated for triple the amount of time. He must have paid Ruud to get his extra time 🙂 Or was it because his talk kept us all from looking at the clock?
Zeger's talk was about (without giving away too much) the connection between testing and art. The ingredients were:
how testers can benefit from arts
some good comparisons between art and software, testers and art critics
some nice "artful testing" heuristics, too bad they are still without a nice mnemonic, but Zeger might change that over time.
a good testing challenge
nice photo's and other pieces of art
Ambiguities, mystification and anagrams (nope no Da Vinci Code here)
I don't know what Zeger loves more: art or testing, but he sure did a good job combining them. This talk is on the program of the Belgium Testing Days and I suggest you go and see this talk! I hope Zeger will also send in his talk for the TestNet fall event as well.
Transpection
Michael Bolton was up next on the topic transpection. We asked Michael to help us explore the intruiging "tool" of transpection. After a short introduction, referring to several post by James Bach and himself we started an exercise. We did the exercise in pair, where we were to collect information on the subject. Michel and I searched some articles and then tried a little transpection of our own. In the round up we collected all information in a nice mindmap.


BTW: See Zeger's blog for more information on how we studied transpection.
Lighting Talks
After lunch Jeanne took over as conference chair and lighting talks were on the program.
Jeroen Rosink: Testing Pyramid, about testers in the classic career path (test analyst – test coordinator – test manager) getting more senior in their job and there are only a few places at the top of the pyramid.
Me: The power of knowing nothing, about people without knowlegde asking lots of good questions, not being biased. And the usefulness of telling people why instead of how. Inspired by my first days in a new job and this video of Simon Sinek.
Zeger van Hesse: Bader Meinhoff-phenomenon, about the advantage of knowing a lot. Since the phenomenon says that when you have seen it once, you start recognizing it more often. A powerfull thing for testers.
Introducing RST in Dutch projects
Ray talked about his experience on how he tried to introduce his take aways form the RST training in his projects. An interesting discussion followed Ray's short talk and we made a mindmap on how to make the case for Rapid Testing. At the end a discussion from the RST class in the week before the conference about giving release advices popped up again.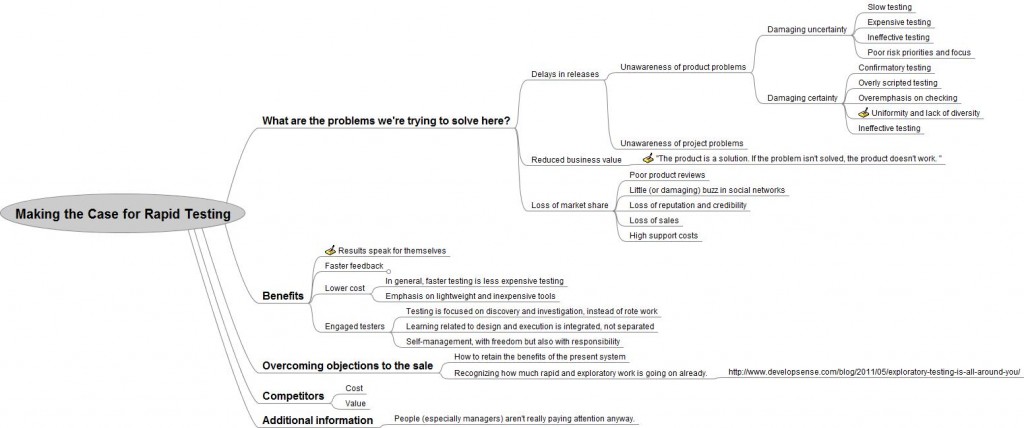 Credibility
The last talk was done by Ruud on Credibility. Ruud referred to a presentation on this subject by Randy Rice which inspired him. Credibility is build on trust and is one the most valuable assests a tester has. If you lose your credibility you will have a though time doing your job. Ruud showed a cool heuristic he uses to keep reminding himself on the key factors of credibility. He also made a nice design he can put on his monitor so he is reminded whole day.
STYLE
Safety language
Two ears one mouth
Yes but
Lighten up a little
Empathy
After this topic the conference was officially over and we had some drinks (with nice testing games), dinner together (with some yes/no question mysteries and lifting my parrot jokes to perfection) and we left for home. This conference was excellent!! Why? It was great fun, I learned a lot, got to explore some really interesting topics with cool colleagues and went home with a lot of new ideas. Thanks guys!
This conference was attended by: Jeroen Rosink, Ray Oei, Jeanne Hofmans, Michel Kraaij, Huib Schoots, Jean-Paul Varwijk, Ruud Cox, Zeger Van Hese, Michael Bolton. Peter "Simon" Schrijver and Anna Danchenko could not attend.
Ray filmed the whole day, I'm curious about the movies he made….