I love to read and I own many books on testing, software, management and other stuff that relates to my work.

But what should a tester read? On this blog I recommend several books in my great resources list. And what do other testers recommend? My curiosity kicked in and I sent out an email to my tester friends around the world.
Every year the Dutch association for software testers TestNet organizes two one-day conferences. This year TestNet has chosen context-driven testing as the theme for their autumn event in October (call for papers is here). To help the Dutch community evolve to learn, think and do more skilled testing I want to advocate some interesting books to the community. Here I need your help! Please send me your personal top 10 of best books testers should read. It can be any book, it doesn't have to be a book on testing… I will collect the submissions and create a list of most popular books amongst testing professionals. Please send me your list of favourite books! Hope to hear from you soon.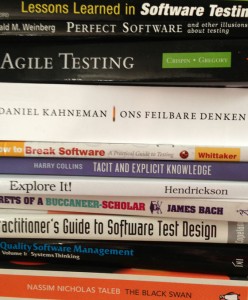 One of the testers replied that he could not send a list. "What you should be reading depends on what you are ready to learn about next, and that varies from person to person". And I agree with this statement. This list of books can be useful when used as a list to inspire. Another tester replied: "the reading that has been most helpful in my career has been centered around blogs and twitter far more than it has been around books". For testers blogs you can check my colleagues list. Maybe creating a list of most popular testers blog will be my next project 😀

Anyway, this is the top 10 of most mentioned books:
Lessons Learned in Software Testing – Cem Kaner, James Bach, Brett Petticord (31 votes)

Perfect Software and other Illusions about Software Testing – Gerald M. Weinberg (19 votes)

Agile Testing – Lisa Crispin and Janet Gregory (14 votes)

Thinking fast and slow – Daniel Kahneman (12 votes)

How to Break Software – James A. Whittaker (11 votes)

Tacit and Explicit Knowledge – Harry Collins (10 votes)

Explore It! – Elisabeth Hendrickson (9 votes)
Secrets of a Buccaneer-Scholar – James Bach (9 votes)
A Practitioner's Guide to Software Test Design – Lee Copeland (9 votes)
An introduction to general systems thinking – Gerald M Weinberg (6 votes)
Peopleware: Productive Projects and Teams – Timothy Lister & Tom DeMarco (6 votes)
Quality Software Management Vol. 1 Systems Thinking – Gerald M. Weinberg (6 votes)
Secrets of Consulting – Gerald M. Weinberg (6 votes)
Testing Computer Software – Cem Kaner, Jack Falk, Hung Q. Nguyen (6 votes)
The Black Swan – Nassim Nicholas Taleb (6 votes)

180 different books where mentioned by 43 participants. 15 (!) different books by Jerry Weinberg where mentioned. The full list of books can be found here. An overview of all participants and their personal lists can be found here.